Our Mission:
AAHSFF is dedicated to providing student storytellers with the practical and artistic skills they need to pursue their passion and share their unique voices. Our Traveling Roadshow presentation brings the best of AAHSFF directly to you in an intimate, informative and interactive program that will connect participants with all of our resources, expertise and entertainment. If you want to inspire your students and elevate your program, the AAHSFF Roadshow delivers an unparalleled experience!
Through our traveling Roadshow students will encounter hyper-relevant topics and themes, explore and analyze cinematic techniques, and engage their higher-level thinking skills to develop their visual literacy skills.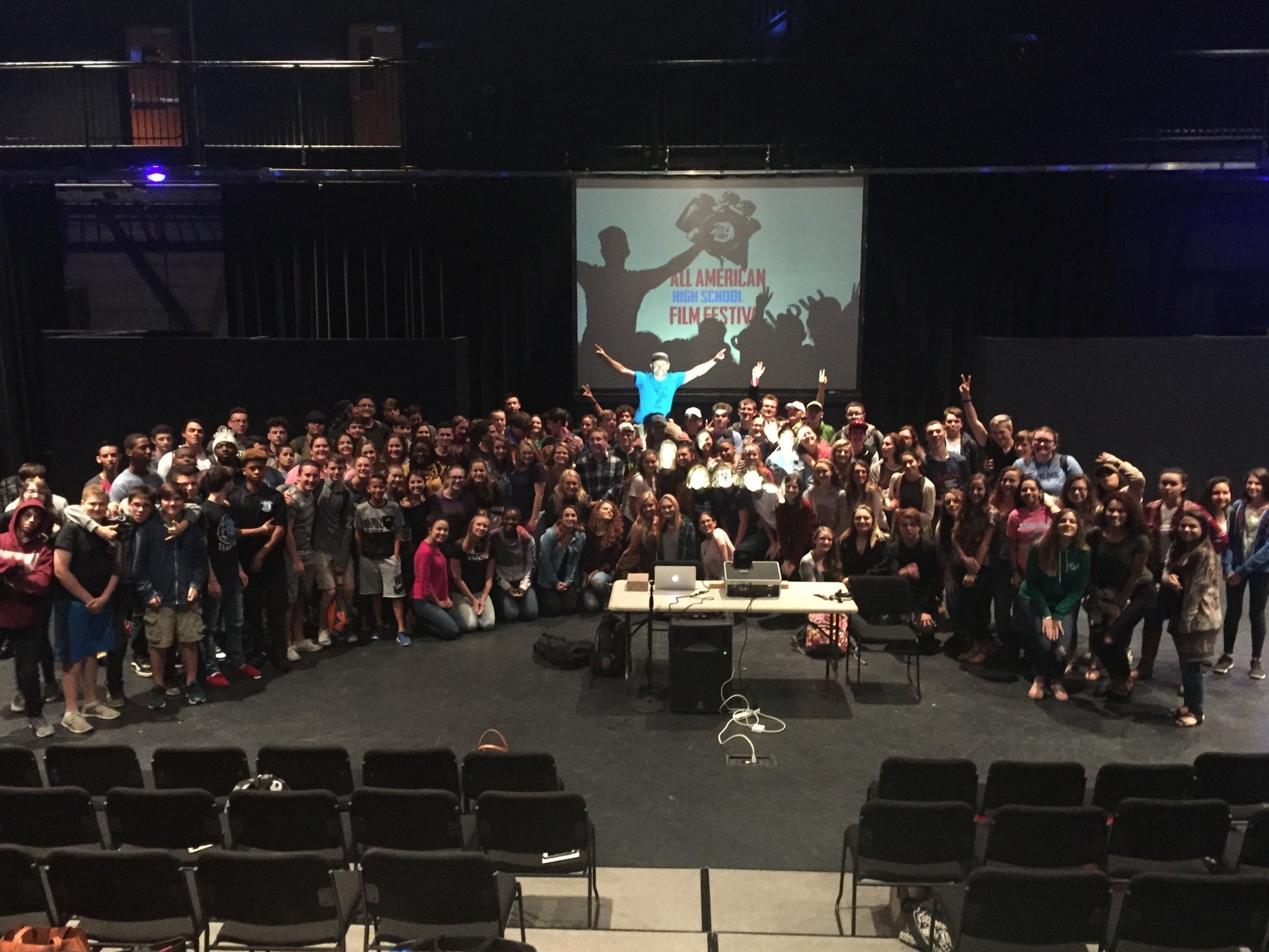 Our Program:
The AAHSFF Traveling Roadshow presentation immerses attendees in the best of student filmmaking from around the world. Throughout the interactive presentation, we screen a wide variety of genres and styles, analyzing the tools and techniques that make them successful. Participating students will be empowered by peer-created content while learning valuable skills to elevate their craft so that they can succeed at the highest level.

Our films come from students all over the world. The students are as diverse as the content they create and each film provides ample inspiration for stimulating discussion.

Simply put: our program will restore your faith in the powerful voices of the next generation and invite you to experience their unique perspectives on life, love, culture, and coming of age in an ever-changing world.
Program Format:
We will prepare a 90-minute screening program utilizing peer-created content from our library of over 7,000 student films. (All presentations are customizable to suit your needs and schedule).
Throughout the screening we will elicit student commentary on specific topics presented by the films. Topics will include (but are certainly not limited to): Direction; Screenwriting; Cinematography; Shots and Angles; Sound and Score; Editing; Pacing; After Effects; Production; Theme; Conflict; Setting; Character; Symbols; Dialogue; Figurative Language; Flashback; etc.
In addition to these topics, our commentary will also promote: The importance of collaboration and a positive work ethic; using media to create social change; phases of production; and practical advice on the industry and career opportunities.
Our Films:
Below is just a small sample of what our library of over 7,000 student films has to offer. Visit our Youtube page for more examples.
Register:
Want us at your school? Fill out the form below and we will get back to you as soon as possible. If you have any questions about our Roadshow program please contact Tom@aahsff.com.